Technical documentation has come a long way from the days of printed data sheets. Working as a software engineer, I remember seeing data books get thicker year after year while the pages got thinner!
Fortunately PDFs took over and are still the most common way to get documentation today. This is what we have been using for our modules and development kits. Until now.
We have recently moved all our documentation online and are using Confluence to host our pages.
You can access documentation for each product from the "Documentation" tab on the product pages, or at http://device.solutions/docs
The biggest reason to move to the online system was updates. We can easily add new content or fix issues without having to publish a new pdf every time.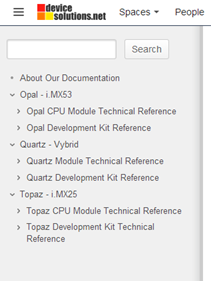 It is also easier to search for the information you need, and we can include links to information such as schematics and sample code.
As you can see from the image to the left, information is organised by product and by module/development kit. There is also the search box at the top which is a great shortcut to find what you need in a hurry.
This next image shows the Quartz module main page. Most pages have a contents link on the right hand side for quickly skipping to the item you are interested in.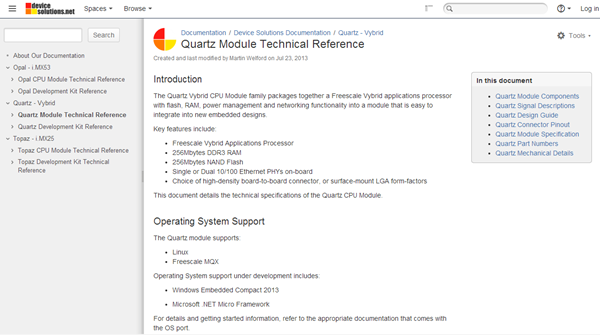 Another key feature about using an online tool is feedback. At the bottom of each page you can leave a comment. This is for anything on your mind – technical questions, something missing in the docs or if you spot a typo.
If you really need a pdf, there is an option under the Tools menu (top right hand side of each page) to export to PDF or Word. This exports the current page only and not the child pages.
If you made it this far, you obviouly have some interest in how documentation is presented!  Let us know what you think by taking the survey below or leaving a comment.
[polldaddy poll=7877900]